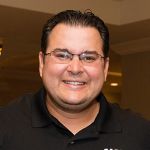 Scott Martin, PA-C, MSPA
CAPA President
As I enter my term as acting President, I can reflect on the progress that has been made over the years. In doing so, I recognize and understand our common goals. We, as a profession, have gained ground where needed to better serve and support our patients. The California Academy of Physician Associates has been instrumental in continuing to recognize barriers and finding ways to challenge them. A recent example of this is SB697. As an organization, CAPA has made some internal changes to assist in progression. The leadership and I understand the necessity of expanding leadership opportunities that promote advocacy and community involvement amongst our fellow PAs. With this thought in mind, now more than ever, CAPA has many opportunities to be involved. This will not only serve as an opportunity to help give back to your PA community but also serve as a means to help shape new leaders moving forward. I urge anyone thinking that this does not pertain to them to re-evaluate their thinking. If you are a PA who has found contentment in complacency in the profession, it is essential that you become part of your state organization. There is much work to be done. If the PAs in California continue to be complacent, however, this will be the downfall of the PA profession. You could be the instrumental key to helping the PA profession move forward and stay relevant. Without the organization's membership and programs to support PAs, there will be no one to defend the PA practice in California.
My hope for the coming year is that more PAs understand CAPA's worth and, as a result, membership elevates higher than any other state in the nation. This would lead the way to the change that we need to stay relevant in practice and to best care for our patients. In my role as President, I will make sure that our leaders are always available to hear and discuss your concerns. The leaders themselves are volunteers who contribute to a cause bigger than themselves. As Mahatma Gandhi said, "You must be the change you wish to see in the world." I urge everyone to be a part of that cause.
I know you are out there, making a difference in your patients' lives with a blend of both skill and compassion.  I know there is nothing more satisfying than when you save a life or positively change the course of a patient's life. When they come back to thank you for what you have done and innocently ask for the physician, that is an opportunity to tell them that you are the PA that changed the course of their life. This will be a defining moment that you can contribute to your profession. I urge you all to not only continue to strive in your profession but to also take it a step further and advocate for both yourself and the betterment of the profession as a whole. Continue your support for your state organization and help your colleagues to understand its worth. True advocacy is based on understanding and empowering others. Each and every one of us has been drawn to this profession because we are in the business of caring.  Rise up and we will continue to be an integral part of the patient care team. The way forward is clear…together.