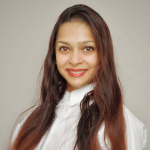 Saloni Swarup, PA-C
CAPA President
U.S. News and World Report has recognized the PA profession as the best overall job in 2021. My heartiest congratulations to each and every one of you. You made this possible! Since its inception in the 1960's, our predecessors have continuously catered to the shortage of healthcare providers. Through our evolution, PA's have time and again demonstrated determination, incessant focus and a vigorous work ethic. Our PA educators and leaders have persistently passed down these qualities to the incoming PA professional. And that's why we made it to # 1.
CAPA will continue to foster and perpetuate an organization and environment wherein PA's continue down this path. Despite the ramifications of COVID19, CAPA has been quite successful in transitioning from live conferences to a virtual platform. This year we continue our Controlled Substances Education Courses, Virtual Rounds followed by CAPACon later in the year.
AAPA House of delegates (HOD) passed an official resolution in May 2021, wherein "physician associate" was voted in as the official title of our profession. As discussions regarding implementation of this policy are now underway by the AAPA Board of directors, CAPA as a constituent organization will continue to pursue this title change in a manner that empowers our PA's in advancing our careers and practices.
CAPA continues to advocate for and protect the PA profession. CAPA continues to have a strong foothold in Sacramento, and we continue relentlessly to make our position known. SB 697 was paramount in redefining the role of a PA in the California Healthcare system. We at CAPA realize that we have just scratched the surface with SB 697.
Our CAPA Board remains determined in our pursuits in integrating PA's as an integral entity in a health care team. I would like to welcome and congratulate the incoming leaders on the CAPA Board and Committees. I would also like to take this opportunity to introduce a new upcoming committee: the Membership committee. This committee will be comprised of the historical Student Affairs sub-committee along with 2 newer sub-committee's: the PA school sub committee and the Early career PA sub committee. If you have any questions and or concerns, please contact the CAPA office. We are here to help in any way possible.
I would also like to take this opportunity to say thank you! Thank you for having your faith in me as your CAPA President. I have been very lucky as former leaders believed in me, took me under their wing and taught me to be a strong leader. This has only been paralleled by the great relationships that I have formed with several fellow PA's. I will continue to work hard for our profession.
Take care CAPA family!
Until next time,
Saloni Swarup, PA-C